Well, well well… What a show! Dave and Roy from DMR Pyro, along with some help from Paul and Phill from ECombat certianly put on two shows to remember tonight! With over 100 different fireworks this was the biggest Fireworks Stash the Big Sheep has ever seen! Add to that the adventure that was radio remote electrical firing it gave the whole show a much more professional outlook and appearance than fireworks at The Big Sheep have ever had before!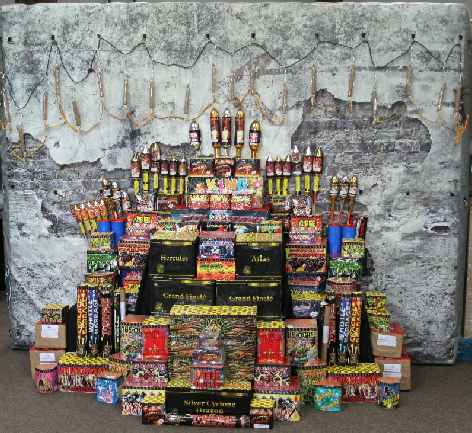 Not one, but two displays on the same night!
The Big Sheep is a family entertainment park on the outskirts of Bideford. They have activities for everyone from 6 months to 60 years old whether you want to see the lambs or run riot at the outdoor combat games run by Battlefield Devon there is something for everyone. As a consequence DMR Pyro were requested to design two very different fireworks shows. The first was the "Tiny Tots Treason Plot". An all together family friendly display aimed at the younger visitor with less loud bangs and no screaming rockets Dave put together a colourful display which had a number of different effects from small cakes, roman candles and to finish, a fantastic silver waterfall.
After the Tiny Tots came the real Gunpowder Plot – cakes came thick and fast with tubes up to 30mm. The loudest bangs, the biggest whizzes and the show kept building all the way to the end – or so they thought. Just when the show seemed to have peaked DMR Pyro launched a volley of rockets followed by 3 incredible Ultimate Firework Cakes over which a flight of 6 golden willow rockets thundered into the night.
The Bonfire
In addition to the two firework displays The Big Sheep constructed a massive bonfire atop which local school children fitted their crafted Guy Fawkes effigies. Once alight the bonfire provided incredible flames that danced in the moonlight and a tremendous amount of heat that warmed the near 5000 people that had turned out on that beautiful evening.
We at DMR Pyro can't wait for 2015's display at The Big Sheep – hold onto your hats, this is going to be BIG!