Seb Ash, on behalf of Parents and Friends Association of Kingsacre Primary School approached DMR Pyro to provide a professional fireworks display at Braunton Cricket Club to celebrate Guy Fawkes Night 2015.
The event was being held to help raise funds for rubber mulch matting to equip the school's outdoor playground, making it accessible in all weathers.
The original forecast for the event was approximately 500 visitors, however when tickets went on sale it was quickly recognised this would not be nearly enough! The show was a total sellout with 1500 visitors inside the event enjoying Sparkler Zone, bouncy castles and all the fun of a Guy Fawkes Party. Braunton Rotary Club and Braunton Army Cadets helped to marshal to the event and everyone had a safe, fun show.
DMR Pyro expect this show to be a firm fixture on the calendar for next year –  a great event for a local community cause.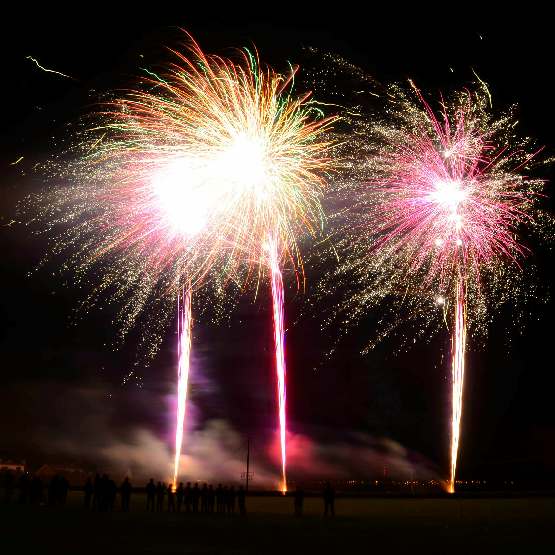 DMR Pyro was commissioned by Rick Turner to supply The Big Sheep fireworks displays for 2015. Not just one, but two professional firework displays to celebrate Guy Fawkes Night on the 5th November 2015.
Historically this show has gotten bigger and bigger audiences each year, and this year was no exception. Crowds braved the wind and rain and were rewarded with two fantastic firework displays with the biggest firework effects The Big Sheep had ever seen!
2015 was the first year The Big Sheep fireworks night had employed a professional company to deliver its Guy Fawkes Night celebration fireworks. DMR delivered category 4 professional fireworks display that filled the sky with colour and sound.
The Big Sheep Fireworks Display
The first display was designed with the younger audience in mind. "Some smaller effects and a focus on vibrant colour" was Dave Macbeth's key goal with the Tiny Tot's Treason Plot. The show was fired electronically and accompanied with a musical sound-track.
The DMR crew of pyrotechnicians then set to preparing the main Big Sheep fireworks display whilst The Big Sheep got the giant bonfire underway. The sheer size of the bonfire caused some issues with setting out the main display, but nevertheless it was completed.
The main display included for the first time Aerial Mortar shells, large calibre fireworks, so large they needed to be fired from The Ultimate Adventure Centre, some 150m away!