Saturday 9th April 2016 saw The Three Crowns of Chagford hold their first ever wedding fair. A fabulous collection of Artisan caterers, wedding stationers and of course professional fireworks company DMR Pyro.
The day saw virtually every type of weather Devon has to offer from Sun, Rain, Sleet and Snow. The Three Crowns glass conservatory and function room bore perfect theatre for a number of brides to discuss their needs.
Three Crowns,
Chagford
Chief health and safety officer Dave Macbeth performed an in depth site survey and with a combination of venue management measures and careful selection of firework effects DMR Pyro can offer a very special end to the most intimate of wedding evenings at the Three Crowns.
More to come
Even though this was the first fair the Three Crowns have hosted the professional hosting team created a premium wedding planner's atmosphere which any bride or groom could feel comfortable and confident in their choice of suppliers.
DMR Pyro will be joining Lucy, Tiff and the team for the next installment of wedding fairs by The Three Crowns Chagford on the 20th November 2016.
Sunday 13th March 2016 saw DMR Pyro's second appearance at the BIG North Devon Wedding Show hosted by The BIG Sheep.
A range of exhibitors from Venues to Cakes, Entertainment to DJ's you really could get everything you needed for your wedding all under one BIG roof! DMR Pyro built on the successes of the previous show and gathered a lot of interest in fireworks displays for weddings from all corners of Devon and into Cornwall too.
Big North Devon Wedding Show March 2016!
DMR Pyro took bookings for June, July and October at the event and had enquiries right the way through until 2019! Following on from the show we have some repeat venues and some exciting news to follow.
BIG Wedding Ideas
Ross spoke to so many happy couples looking to start married life off with a BANG he lost count! With shows being planned for a range of budgets and venues DMR Pyro has a show for everyone.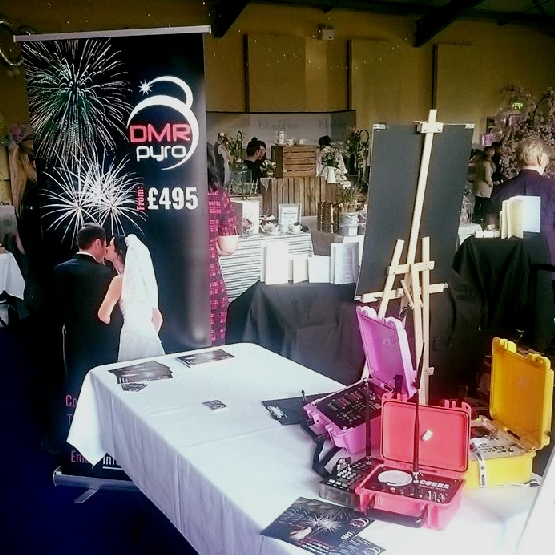 DMR Pyro subcontracted under SB Pyrotechnics to crew the main 2015/16 Bideford New Year's Eve fireworks display fired from Brunswick Wharf. We spent the day preparing the professional category 4 fireworks ready for the big show at midnight.
The real challenge was keeping everything dry and secure whilst mother nature threw her worst at us! We were battered with wind and rain from 10.00 until 21.30 where a break in the weather gave us the chance to lay out all the firework tubes and barrage cakes.
The show consisted of over 50 professional cakes and candles as well as more than 250 aerial shells. A real sky filling show with raw power and a little over 8 minute duration. The show was hand fired and controlled by chief pyro Steve Barnes. DMR Pyro look forward to working with SB Pyrotechnics in 2016 and into the future.
Neither SB Pyrotechnics nor DMR Pyro had any association with the pyrotechnics fired from Bideford Quay.